We are a creative brand agency passionate about building brands for the future with a dedicated team of thinkers, strategists, designers, copywriters and digital nerds. With an expertise of over 15 years and specialty in strategic brand development, positioning and marketing communication, we are driven with the desire to define brands differently through ideas. We give the right perception to your brand and make it stand out.
Creativity is simply doing a common thing in an uncommon way.
Uncommon thinking. Uncommon brands.
Let's help you build your brand.
We hit the books to learn about your industry,analyze every facet, market trend and evaluate your competitors to ensure you get the best solution possible. This stage is central to the total brand growth.
We collaborate with our client to understand their expectations and goals. Implementing best practices derived from our research and analysis to help achieve desired results.
A great strategic creative gives a brand what it needs to prove itself and thrive at point of sale and build relationship with their audience. We present our creative developed from the brand tone, messaging. This promotes our clients brand positioning to their target audience.
After researching, analyzing, strategizing and developing creative contents, it's time to ignite your brand. Using variety of media, content and marketing tactics, we engage and interact with your audience. 
At this stage we collect all data and evaluate the effectiveness of our approach by finding key insights and implementing adjustments to keep informed of new market trends. We celebrate in our client's success and our ability to actualize out set goals.  
Building brands people love.
We work with all kinds of brands and companies, no matter your industry, product or service. Together we build your brand, positioning and creating experience. We seek to drive value through unconventional measures in helping brands and businesses grow.
Our annual publication showcasing our logo works and brand identity designs for brands we've ignited over the years to standout. Celebrating the spirit of enterprise in each and every brand. No idea is worthless. They are pencils in your hand.
Partners that makes a difference
Our work has won awards for both creativity, branding and design effectiveness. These recognize our aim to create and define brands differently through ideas.
Corporate Vision - Media Innovator Awards
Branding & Design Consultancy of the Year 2020 – Africa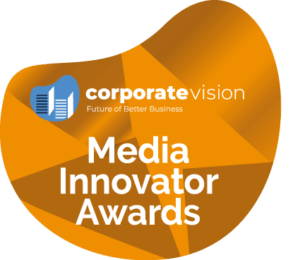 MEA Markets - Business Awards
Most Passionate Creative Branding Agency of the year 2020 – Nigeria
On how we approach with no limits.